Update (2/2008): Prosper continues to extend the deadline of the referral program and it appears that it will be an ongoing program.
Lending Club
also offers a $25 sign up bonus.
Last month Prosper announced a great referral program. New lenders receive a free $25 when they sign up. If you sign up and then sign up your spouse (as Matt described in an
earlier post
) you effectively make an immediate $75 on a $100 investment. The referral program ends on August 31. Here's a referral link if you want to
sign up now
.
If you are interested, here is some more information about the
Prosper referral program
in their own words:
What is the referral program?
Prosper's referral program was established to encourage our most ardent supporters (our members) to bring their friends and family to Prosper. In return for bringing active borrowers and lenders, Prosper pays cash awards to referrers. Here's how it works:
You add a special link to Prosper on your web site, blog, discussion forum, MySpace page, Facebook page, in your email signature, and so forth. Create a referral link now.
A friend clicks on your Prosper link.
Your friend joins Prosper within 30 days of clicking on your link.
Within 90 days of joining Prosper, your friend gets a funded loan (as a borrower) or funds a loan (as a lender).
As soon as your friend's first monthly payment clears (as a borrower), or first loan originates (as a lender), you get cash in your Prosper account.
What are the requirements for earning referral awards?
To qualify for referral awards, you have to meet the following conditions:
The invitee must have clicked on a link with a referral code.
The invitee must come to Prosper directly from a link outside of Prosper.com or any other Prosper-owned domains.
You can direct invitees to any part of the Prosper web site, excluding the Prosper discussion forums or the /prm directory.
The invitee's Web browser must accept cookies.
The invitee must be a new member, and must join Prosper within 30 days of clicking on your link.
The invitee must take an action (borrow money or make a loan) within 90 days of joining Prosper.
If the invitee is a borrower, he or she must make the first monthly payment successfully.
You can only earn one borrower award and one lender award per new referred member.
How will I know if one of my friends registered? Is there any way to test this system?
When a friend you have referred joins Prosper, you will receive an email notifying you that your friend has joined. Keep in mind that you won't receive any awards until your friend has taken a loan and made a payment (as a borrower) or funded a loan (as a lender). Once your referred friend borrows or lends, you'll receive another email notifying you that the referral award has been paid.
In my experience, when I refer someone there is immediate feedback when they signup. I received the following email.
Thank you for referring a new member to Prosper. [name deleted] just joined Prosper, and if he or she becomes an active participant in the marketplace within the next 90 days, you will receive one of these awards:
Borrower: 0.50% of the loan amount when his or her first monthly payment clears.
Lender: $25.00 when his or her first loan is funded.
Although the referrer gets immediate feedback, the new lender will not know he or she has signed up under the referral program until they complete the requirements and actually fund a loan. This has confused some new lenders. For example, after clicking on the link
http://www.prosper.com/?referrer=Spider5
the user is redirected to
http://www.prosper.com/Default.aspx
. I had a friend call me back when he was trying to sign up saying he didn't think it was working. Don't worry. The referral will still go through. Prosper has been good about paying people promptly after the requirements have been met. If you are still on the fence about signing up for Prosper, you should at least start the process now in order to take advantage of the $25 referral bonus. You still have 90 days to fund a loan. Here's a referral link if you need one: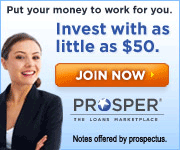 Although borrowers do not receive a bonus when they sign up under the referral program, it is still advantageous for them to do so. If I have a borrower that signed up as my referral, for example, I would be interested in helping them get funded. I might help promote their listing among other lenders or bid on them myself. Since a
large number of loans go unfunded
, having a lender's assistance can be helpful.